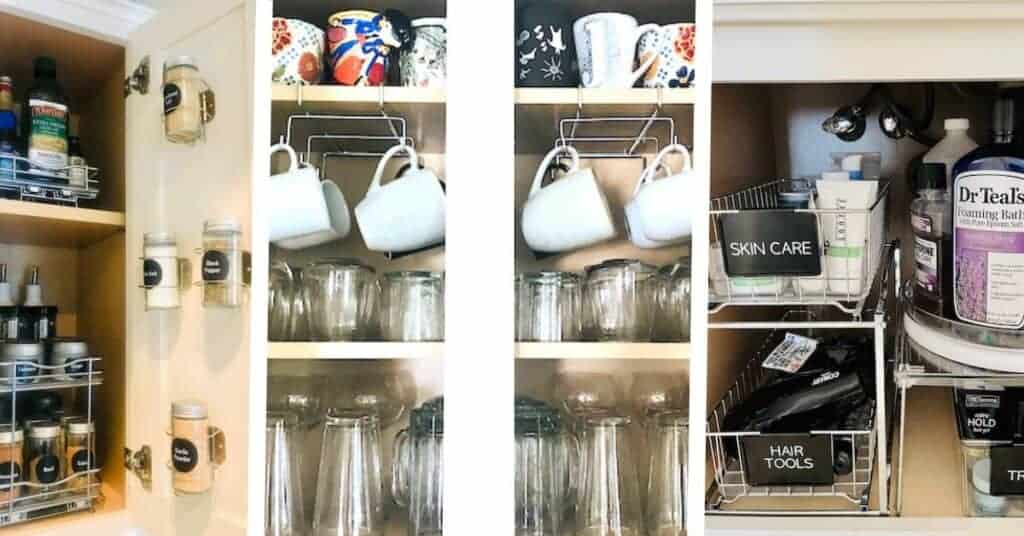 ​Are you ready for some amazing DIY storage ideas for small spaces? I know that small home storage is a challenge for so many people, and I love to share storage solutions that help you stay organized.
My own home isn't huge when it comes to square footage, so I've gotten very creative in organizing my space over the years. Check out my favorite tips for organizing small spaces in every room in your house!
If you'd like to save these ideas for later, simply enter your info below. I'll send them straight to your inbox.
Have tips sent to email to save for later:
This post contains affiliate links. As an Amazon Associate, I earn a small commission on qualified purchases at absolutely no cost to you. Please see the Disclaimer for more information.
1. Secret to Small Space Storage
No matter what small room you're trying to organize, the key is to maximize the space you have. This means:
Use all available vertical space
Look for "hidden" unused space: back of the door, under a bed, inside cabinet doors, etc.
Choose furniture with built-in storage to help free up floor space
2. Hang Pots and Pans from the Ceiling in a Small Kitchen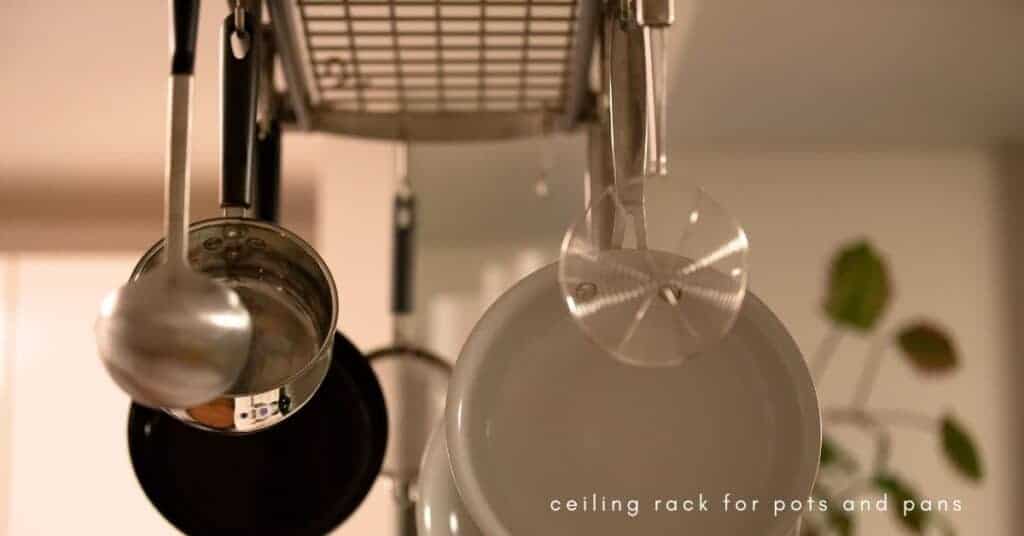 Small kitchens often lack adequate cabinet space for pots and pans. Use your ceiling!
You can install a pot rack and hang pots and pans, freeing up cabinets for other essentials. And pot racks can be stylish additions to your kitchen decor, too.
And for more inspiration, read my post on 17 ways to organize pots and pans!
3. Use Cup Hooks in Small Kitchen Cabinets
This was such a simple yet genius solution.
I needed to fit all of my family's glassware, cups and mugs in one kitchen cabinet. I used cup hooks from Amazon to maximize every inch of space.
Because this solution slides over a cabinet shelf, it works for a small apartment where you can't drill holes.
Read more ways to organize glassware, cups and bottles.
4. Free Up Counter Space with Multi-Use Appliances
Small kitchens can become cluttered with small appliances. A multi-use appliance that pulls double duty is a genius small space hack.
For my kitchen, I bought a Cuisinart air fryer/toaster oven/convection oven combo appliance. It gets used EVERY day, and it saved me so much counter space!
Find the Cuisinart Air Fryer + Convection Toaster Oven on Amazon.
5. Use Under Shelf Baskets in a Cabinet or Pantry
An under shelf basket is a great way to use all of the available space in a cabinet or pantry.
I've used them in my pantry for bread and snacks. My favorite way to use them is for baking pan storage! I have a lot of different cake pans and muffin tins, and this keeps them neatly organized.
Find an under shelf basket on Amazon.
See more ways to organize baking pans in your kitchen or pantry.
6. Try Stackable Storage Under the Kitchen Sink
I use stackable storage bins and drawers under every sink in my house. They offer easy access to items in tight spaces.
Under my kitchen sink, I put smaller items that I use less often in the bottom bins, and bottles of soap and cleaning supplies in the top bins.
Find stackable storage bins on Amazon.
Learn the simple step-by-step process I used to organize under my kitchen sink.
7. Store Spices on the Inside of Your Cabinet Door
As I mentioned, the inside of a cabinet door is a great place to add storage. I mounted adhesive spice bottle holders on my spice cabinet door.
I use them for my "everyday" spices, like salt, pepper and garlic powder. It makes it so easy to grab them right off the door when I'm cooking! Find cabinet door spice organizers on Amazon.
Discover more ways to store spices in your kitchen.
8. Add Furniture with Built-In Storage in a Small Living Room
​Every inch counts in a smaller space! One of my favorite small space storage ideas is incorporating furniture with built-in storage.
For example, my media cabinet with storage shelves has been the best way to store my family's huge collection of video games. It still looks modern and stylish, but serves a purpose as well.
9. Use a Storage Ottoman to Store Games in the Family Room
Another great idea: invest in a storage ottoman with a lift-off lid and use it to store board games or DVDs or even extra throw blankets. Don't let your ottoman just take up valuable floor space; give it a job to do!
Find storage ottomans on Amazon.
10. Store More in a Coffee Table with Shelves
Coffee tables can offer extra storage space in smaller homes, too! I love my coffee table (above). There's plenty of room on the bottom shelf for blankets, books or games.
11. Try a Blanket Ladder to Save Floor Space
Have a lot of blankets to store in a small living room?
Rather than piling them on the couch or wasting floor space with a large basket, try a blanket ladder! It makes great use of empty wall space and only takes up a small area. As an added bonus, it looks beautiful!
Find blanket ladders on Amazon.
(Check out all 21 blanket storage ideas for more inspiration!)
12. Add a Counter or Shelf to a Small Laundry Room
Tiny laundry rooms benefit from more shelf or counter space. Consider installing a counter over a front-loading washer and dryer, or add open shelving to the wall above. (Or both).
This gives you extra space to store laundry detergent or cleaning supplies.
13. Sneak a Slim Rolling Cart Between Your Washer and Dryer
Another sneaky storage trick: slide a skinny utility cart between your washer and dryer! There are almost always a few small open spaces in a laundry room, either between the washer and dryer or next to the wall. Use them!
​Read all 10 BIG ways to organize a tiny laundry room for more ideas.
14. Use Pull-Out Drawers in a Bathroom Cabinet
Small bathroom cabinets tend to be narrow and deep, making it hard to access items when you need them.
My solution in my bathroom was the set of slide-out drawers above. I can easily store my hair dryer and other hair tools in one bin and skincare products in the other.
Find slide-out drawers on Amazon.
15. Add Tip-Out Trays Under the Bathroom Sink
You know that false drawer front that some bathroom vanities have beneath the sink? That's wasted storage space!
I used my DIY skills and installed a tip-out tray in my own bathroom in about 30 minutes. It's so handy for storing small items like oral care or nail polish.
See 10 ways to use tip-out trays in the bathroom. 
16. Install Open Shelves for Small Bathroom Storage
My guest bathroom is pretty small, but I wanted it to feel cozy and not cluttered.
I installed two open shelves above the toilet, next to the shower. I use them to store toilet paper in a pretty basket and shower gel and lotion for guests.
It's a great option when you lack adequate cabinet space!
See 25 small bathroom organizing ideas!
17. Add Magnetic Storage or Command Hooks Inside Your Medicine Cabinet
Another overlooked place for bathroom storage: the inside of your medicine cabinet door.
I added magnetic cups from Amazon to hold nail files, clippers, tweezers and other tools. You could also store toothbrushes and toothpaste, combs, hair accessories and similar items. 
18. Try Wall Hooks for Hats and Jewelry in a Small Closet
My husband and I attached wall hooks right inside the door to our walk-in closet to store hats and visors. You could also hang necklaces or bracelets on wall hooks if you don't have space for a jewelry box.
Don't miss more beautiful ways to organize your jewelry!
19. Double Your Closet Shoe Storage With Shoe Slot Organizers
Check out 20 ideas to organize shoes in a small space. 
20. File-Fold Clothes to Save Space in Your Dresser
Maximize space in your bedroom dresser by file-folding clothes and using drawer organizers. Not only can you fit more clothing in your dresser, but you'll be able to find and access the items you need much more quickly.
Check out all of my tips on how to organize a messy dresser!
21. Add Nightstands with Built-In Drawers or Shelves to a Small Bedroom
Make your nightstand work harder for you with extra storage via built-in drawers and shelves. The nightstands in my bedroom have cabinets where I can store books and extra bedding.
Read about 15 ways to organize your nightstand. 
22. Use All of Your Under Bed Storage Space
Don't neglect the lovely hidden storage beneath your bed! I store seasonal clothing and extra bedding/comforters beneath mine.
Want more bedroom ideas? Check out Easy DIY Bedroom Storage for more. 
23. Maximize Wall Space in a Small Home Office
A home office needs to be able to store lots of office supplies, files, printers and other bulky items. Use your wall space as much as possible.
Add a bookshelf or install open shelving above the desk to keep your supplies organized. 
​Read 20 Ways to Beautifully Organize Home Office Supplies for more inspiration!
24. Add Under-Desk Storage
There are so many great ways to add storage space under your home office desk!
Free up the desktop with a pull-out keyboard tray. Store your printer or a filing cabinet on wheels. If your desk lacks drawers, you can easily install some pull-out trays for small office supplies. 
​Get more under-desk storage ideas here. 
25. Master Cable and Cord Organization
A home office tends to be a challenging place for keeping cords and cables organized. So many electronics lead to so many tangled cables!
In my office, my favorite solution has been this cable tray mounted under the desk. We have our surge protector there (instead of on the ground) so we never see cables dangling and tangling. It's so easy to plug or unplug a device. 
See 20 fabulous tips for organizing cords and cables throughout your home!
26. Hang Tools on a Pegboard in a Small Garage
My husband and I made this pegboard wall for our tools in the garage. It's such a great storage idea if you like seeing all of your tools in one place! We never have to dig through toolboxes or storage bins to find a wrench or hammer.
Learn how to organize tools on a pegboard here. 
27. Store Power Tools on Moving Dollies
Large saws and sanders take up a LOT of space in a small garage. Our storage solution was simple (but genius, if I do say so).
We placed them on moving dollies and stowed them under our workbench. Now we just roll them out when we need to use them and roll them back out of the way when we don't. Perfection!
Get more DIY ways to organize your garage here. 
29. Mount Sports Equipment on Wall Racks
Get those bikes and balls off the garage floor! We mounted our three bikes on the back wall of our garage with simple hooks. We also found a little space in the corner of the garage to add these awesome ball mounts for our son.
Discover more ways to organize and store sports equipment here!
I hope I've inspired you to try some DIY storage ideas for YOUR small spaces. Happy organizing!
Last update on 2023-12-02 / Affiliate links / Images from Amazon Product Advertising API